Inspiring the next generation of scientists, engineers & explorers
Official Licenced Product
Officially Licenced Product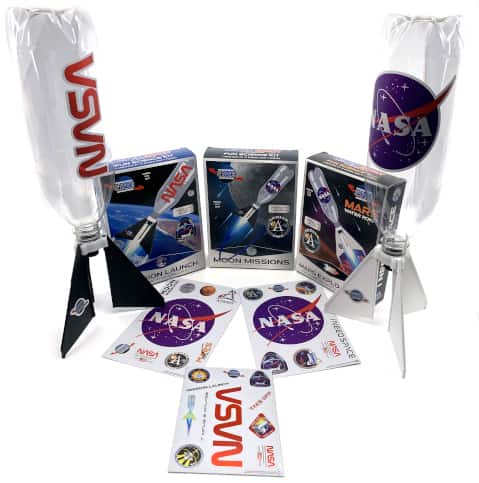 Customise your own Water Rokit with exclusive
mission pack stickers
Inspiring today's children to be tomorrow's engineers and scientists, putting humans into space to achieve the ultimate goal of interplanetary settlement.
Outdoor family fun fuelling imagination for younger children and real science experimenting for teenagers and rocketeers.
Space is for everyone – exploring, discovering and expanding knowledge.
What we learn in space matters. Pushing the boundaries of science and technology to help make life better for people worldwide. Exploration with the ultimate goal of interplanetary civilisation
WE HAVE LIFT OFF!
MOON MISSIONS
We are going to the Moon: 2024.
The Artemis program will see NASA once again land humans on the lunar surface.
We all know the Apollo mission phrase "one small step for man, one giant leap for mankind" and this time it's another huge step for humankind with plans for the first woman to walk on the Moon!
Customise Your Water Rokit
with Mission Patch Stickers
DEEP SPACE MARS EXPLORATION
Mars was once a planet with rivers and large lakes that have dried up over time. What happened to the water?
NASA is exploring Mars as it's one of the easier planets to reach in the solar system even though it's some 140 million miles away! The Mars Preservation rover mission aims to answer big questions about the potential for life on Mars. The next goal? Future human expeditions to Mars.
For your Mars Water Rokit just add water!
T-MINUS 10 SECONDS TO MISSION LAUNCH
The most powerful rocket in the world. NASA's new Space Launch System (SLS) and Orion spacecraft will send humans and cargo to the Moon and beyond.
This new era of space exploration is called Artemis, named after the twin sister of Apollo. It's an innovative and sustainable program that will free humanity from our bonds to Earth. In this decade the Artemis Generation will teach us how to live on other planets.
SPACE FOR US ALL – IN A GALAXY NEAR YOU
Hinterland's Water Rokit can take your imagination into orbit.  The real life science of how NASA first got man to the Moon is translated to the Water Rokit.  
Get outside and witness the speed of the Water Rokit – how did man first feel going to outer space? Imagine how it would be to be a man on the moon – or woman! Get ready for blast off……
NASA. Pushing the
boundaries of space exploration